Centerpoint Martial Arts February Vacation and Summer Camp
Join the fun and stay strong this February Vacation Week and this summer with the Centerpoint Martial Arts Summer Camp! Drop-in for a day, a week, or the whole summer!
Centerpoint Day Camp is about healthy living. We fill each day with fun, adventure, and learning. We visit some of the best local natural areas as well as museums and other fun learning activities and then finish the afternoon with martial arts classes when we return!
February Break Discovery Camp:
Monday, February 17- Friday, February 21
Camp Hours: 9:00a.m.- 4:00p.m.
Extended care available through 6:00pm at no additional cost.
Cost: $335 for full week.or $70 per drop in day
Register here for full week. Register Here for drop in camp.
Summer Program includes:
Each week will include outdoor excursions, visiting experts and enrichment activities, arts and crafts, and participation in our fun and exciting Youth Karate Classes (with some original martial arts extras added in). For ages 6 and Up.
Camp hours are 9 a.m. – 4 p.m. Drop-off & pick-up from 7:30 a.m. thru 6 p.m. at no additional cost
Summer Schedule:
Week One: July 8-12 Theme: Magical Creatures
Week Two: July 15-19 Theme: Let's Build It
Week Three: July 22-26 Theme: Splash!
Week Four: July 29- August 2 Theme: Stream and Forest
Week Five: August 5-9 Theme: Between the Tides
Week Six: August 12-16 Theme: Up!
Week Seven: August 19-23 Theme: Art Walk
Week Eight: August 26-30 Theme: Live like a Warrior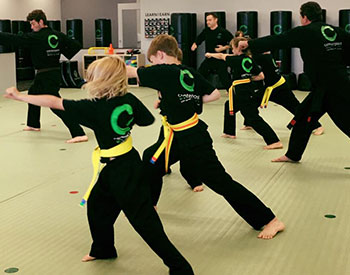 Rates and Info:
$325 per week or $70 per day.
Centerpoint Member Rate: $295 (Use promo code: MEMBER30)
Sibling Discount: $10 off per child per week (Use promo code: SIBLING10)
One week free if you register for all 8 weeks!
All purchases are fully refundable (up to 30 days prior to the camp date).
You may change the weeks you would like your child to attend at any time (if spaces are available). Register here